ELECTRIC WASTE
PROCESSING AND TRADE
Electric waste has typically a very diverse chemical content. They contain valuable, recyclable metals (precious metals, copper, aluminum, iron) and harmful, hazardous materials for the health and environment (plummet, cadmium, beryllium, quicksilver).
Hungary such as in other EU countries collecting and recycling rollout, out of use electric devices are regulated by the law.
The collected secondary raw materials from manual or machine-split pretreatment are bought by METALEX 2001 Ltd. and followed by a cleaning and reclassification process sent to be recycled.
For secondary raw materials due to our wide range of partner relationships we can offer the best prices based on the London Metal Exchange.
Metalex Ltd. has collection permits covering all EWC codes that can occur in electric waste. Due to our wide range of partner relationships we can provide very favorable acceptance prices for non wrecked electric wastes.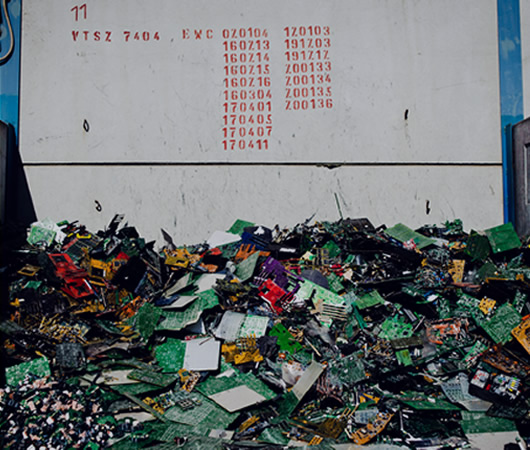 CONTACT US
Please, contact us in case you have any questions. Our collegaues are always here to help you.
OPENING HOURS:
Monday to Thursday: 7:00 – 15:30
Friday: 7:00 – 12:30
Metalex2001 Kft
Vas-, Színesfém-, Elektronikai hulladék kereskedelem
Telep: 1214 Budapest, Rózsa u. 17.
T : (+36 1) 277 0572, 277 0355
F : (+36 1) 276 9878
www.metalex2001.hu